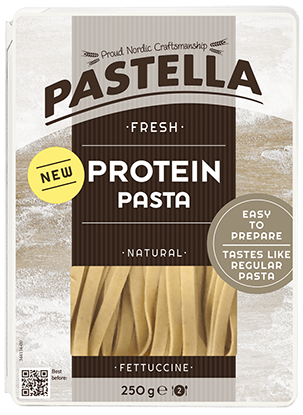 Protein Ribbons
Pastella Protein Ribbons are made from classic fresh pasta with added pea protein. We recommend Protein Pasta Shapes and Protein Ribbons as the main ingredient in delicious meatless pasta dishes. Serve the pasta with vegetables and you will have an appetizing meal. Thus PASTELLA PROTEIN PASTA can help you reduce the amount of meat in your every day life.
Cooking instructions: Bring 1 l water and 1 tsp salt to the boil and add the pasta.Allow the Proteinpasta to cook for 2-3 minutes and then the Proteinpasta is ready to serve.
Ingredients: Durum wheatflour(53%), water, pea protein (11%), wheatflower.
Might contain traces of egg.